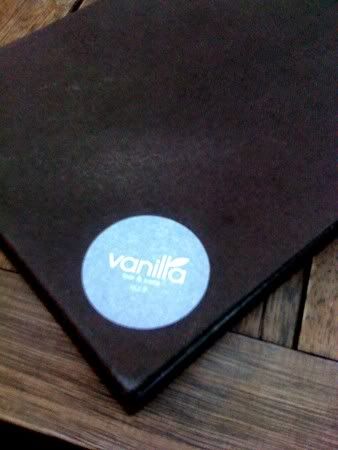 Vanilla Bar & Cafe is a small and cosy place, seating capacity is about 20 indoors and 5 in the courtyard. Unfortunately for us, there was an event and some dude booked the entire indoor seating so we had to sit outdoors. Surprisingly, it did not turn out too bad, in fact, it felt really quaint! Over our heads was the well-maintained exteriors of the shophouse, and we were surrounded by the lush greenery. It almost felt like we were somewhere else altogether, definitely not in CBD.
The order of the day: my norwegian salmon with egg mayo sandwich. never knew such a combo could be so heavenly. With the panini well toasted (and with sexy grill marks), it omes together superbly with the creamy egg mayo andt the salmon provided the punch. Would had been really the perfect meal if there was a serving of cream cheese. :)
A standout: my dining partner's japanese katsu curry. the meat was nicely fried and did not lose the crispiness even though it was generously doused in Japanese curry. I for one loves the root vegetables simmered in gravy/curry/sauce and this is no exception.
You can look forward to the value deal of adding $1.50 for a drink (coffee/tea/soft drink)!! Our total dining bill was a mere $25. What a bargain! Considering it's in CBD!
Great getaway at such an unlikely place! A good (short) get-away from the hustle and bustle of work in the middle of a work week. :)
3 Boon Tat Street #01-01
+65 6423 0366